[ad_1]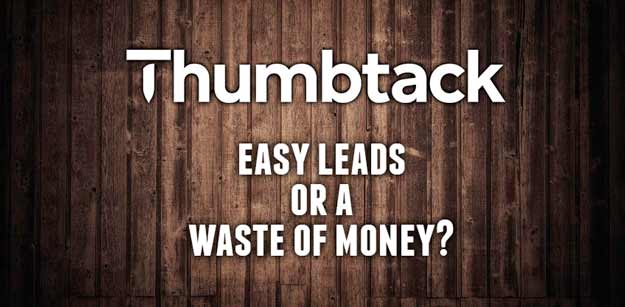 Thumbtack can be a fast and easy way to get customers and grow your business, but should you use this lead generation service?
I've talked to several pro handymen who consistently generate quality leads through Thumbtack, but when you read online reviews it's like Thumbtack is out there killing babies or something. People are pissed.
So who should you trust, and most importantly, should you use it to generate leads for your business? That is the ultimate question I'll answer in this article.
I'll talk about the controversial issues around Thumbtack, the pros and cons of using it, how much you can expect to pay for a lead, and tips for maximizing your results if you decide to sign up and test it for yourself
Common Complaints From Thumbtack Pros and Contractors
Issue #1 – A recent jump in lead prices
In September of 2017, Thumbtack announced a new feature called "Instant Match." As this new feature rolled out, Thumbtack changed how they charge for leads and the cost of leads has increased significantly as a result.
In one review on ConsumerAffairs.com, a Thumbtack pro said, "I sent a message to 2 different customers that would have normally been $8-$15 each only to discover (once my card had been charged) that those two bids now cost me $65."
Another reviewer mentioned that leads that used to cost $3-$15 now cost $55. Assuming those reviews are accurate, that's over a 700% increase in the cost of leads!
But wait just a second.
When I dug deeper I found out that most leads don't cost anywhere near $50 or $60. In fact, most small handyman jobs cost about $8.25 per lead. Those higher priced leads are most likely for large contracting jobs like kitchen remodels and home additions where honestly, $50 for a lead is reasonable.
Did Thumbtack raise the the price of leads? Yes, they did. But leads are still a bargain, especially when compared to Home Advisor.
Additionally, when Thumbtack boosted the cost of leads, they also changed how they charge for a lead. So instead of charging you just to submit a bid, they only charge you when a customer actually responds to your bid or hires you. So while lead prices have gone up, the amount of leads you will actually pay for has gone down because you won't have to pay for low quality or fake leads.
Issue #2 – Too much competition
Another complaint is that too many pros are competing for each lead. According to some reviews online, there used to be a maximum of three to five pros submitting bids on a job, and now there could be as many as fifteen bidders for a single job.
It's difficult to verify this, however. Nowhere on Thumbtack's website tells you how many pros can bid on a job. Definitely not ideal, but not a deal breaker either.
Issue #3 – Reviews and Accounts Being Deleted
If you read the fine print in Thumbtack's Terms of Service you'll learn that Thumbtack can delete your profile without warning and without explanation.
So let's say you've been on the platform for 2 years, built up a solid profile with dozens of five-star reviews. If Thumbtack doesn't like something about your profile they can straight up delete it without even providing a warning. Or they can just delete your reviews if they think they are fake.
Now, they probably won't delete your profile as long as you follow good business practices. But it's still risky putting the well-being of your company in the hands of another business who doesn't necessarily have your best interests in mind.
But Is Thumbtack Effective?
Look, if Thumbtack didn't work for handymen, contractors, house cleaners, and dozens of other service providers, it would quickly disappear. But it hasn't. Instead, it's now known as a unicorn (a privately held company worth over a billion dollars). In 2015 Thumbtack was valued at a whopping $1.3 Billion and it has continued to grow since.
Anytime you read online reviews on sites like BBB and all you see are bad reviews, understand that happy customers aren't leaving reviews. Only the pissed off people who feel like they were screwed have enough motivation to take time out of their day and leave a review.
There could be a hundred extremely happy pros for every negative review you find online. But do you really think that pros who've struck lead generation gold are going to tell everybody about it? No, they're going to milk it for as long as they can.
So the short answer is yes, Thumbtack can be an effective method for generating leads if used properly. Like I said, I've spoken to several pros who use it and like it.
Should You Use It To Grow Your Business?
Honestly, it depends. I don't personally use it because I can generate more than enough leads through my website (and those leads are free).
However, I do recommend Thumbtack to many of my readers and clients who are just getting started because it's a great temporary solution. Buying leads is good for the short-term while you work on longer term marketing strategies like building an online presence.
So if you're just starting your business or you need some customers fast to fill your schedule, give it a try. Test it. Learn how to use it properly (which I'll discuss below), give it a fair shake, and if it doesn't work for you, stop using it.
Simple.
Don't be like many people I've seen that are so scared of being scammed that they won't try anything and end up leaving money on the table as a result.
However, I do have a word of warning with regards to lead generation services in general, whether that is Thumbtack, Home Advisor, on one of the other hundred that popped up in the last year.
Here's What NOT To Do
The only problem with using websites like Thumbtack is when they are your sole method of getting new customers. This leaves your business exposed in a way that can really cause problems if anything changes, which it inevitably will.
Instead, view Thumbtack as a tool for getting leads quickly while you work on other marketing methods that you have more control over.
You'll  want to do things like build a website, get some reviews on websites like Yelp, and do some SEO to get your website to show up in google so you can generate free leads.
Just like when investing your money, you want to DIVERSIFY where your leads come from to reduce risk and keep your schedule filled all year. That way if one source of new customers disappears, you have several others that can pick up the slack.
Never outsource your entire marketing efforts to one company that you don't control. They can change things at the blink of an eye and literally wipe you out. Or, this can force you to lower your prices in order to stay competitive as the competition grows.
The Details – How Exactly Does Thumbtack Work?
Thumbtack's goal is to make hiring a plumber, handyman, gardener, dog groomer, or any local service business as easy as ordering products from Amazon.
Customers visit their website, enter a bunch of information about the service they are looking for, and then Thumbtack connects the customer with multiple pros who have the opportunity to bid on jobs and sell themselves to customers. Thumbtack then charges the pro when the customer hires them or communicates with them.
Basically, Thumbtack sends you leads that you can bid on, and then they charge you for those leads.
This is very similar to Home Advisor with a few small differences.
As a pro, you sign up, create a profile, customize the settings so Thumbtack knows what services you offer, and then you wait for jobs to come through. You get to set your service area, hours, services, and rates.
Once a job comes through, there are three ways to submit a bid…
Bidding Method #1 – Manual Bids
When a job comes through that matches the services you offer and it's in your service area, Thumbtack will notify you by text, email, or both. Then, you can look at the details of the job and decide whether or not to submit a bid. You can be as picky as you want with jobs you bid on. I think this is a great feature.
Bidding Method #2 – "Instant Match"
This is Thumbtack's latest upgrade to the platform, and it basically allows you to submit bids automatically for certain jobs. You setup your preferences, create a pre-written response, and when jobs come through Thumbtack will automatically send your bid to the customer. (This is good if you charge hourly).
Regardless of whether or not you use Instant Match or just manually bid on jobs, you only pay for the lead once the customer hires you or responds to your bid. This helps to reduce the amount of fake leads which is a huge problem with Home Advisor.
If you don't bid on any jobs? You don't pay a dime. At least not for now, although that will probably change in the future.
Thumbtack Pricing – How Much Does It Cost for Pros?
As with all lead gen services, the answer is that it depends. According to Thumbtack's website, "The cost of each quote will vary, depending on the value of the job and the number of available and interested pros in the area." There is no cost to sign up.
So, bigger jobs like kitchen remodels will cost $50+, while smaller jobs like replacing a toilet or a day of handyman services will be in the $8-$10 range.
However, I'm sure Thumbtack is constantly adjusting their rates to go as high as possible while still being competitive enough for pros to keep using the platform. This is a huge reason why I never recommend relying on lead generation companies solely for leads. They basically have you by the balls and there's nothing you can do if they decide to hike rates. As long as other pros keep paying, they can charge whatever they want.
Are Background Checks Required?
According to Thumbtack's website, they "sometimes require pros to take background checks."
So no, background checks are NOT required across the board. It's not clear how they determine who needs one so you'd have to sign up to find out for sure.
What I Like about Thumbtack
You only pay for leads if you submit a quote and the customer responds. This allows you to pick and choose which jobs you bid on.
The website allows you to get jobs quickly which is nice if you're just getting started or need to fill gaps in your schedule.
You can see what your competition is charging and do market research before starting your business.
It's easy to stand out if you put some effort into your profile.
What I Don't Like About Thumbtack
You don't control it so you're at their mercy.
It may encourage pros to drop their prices and potentially force you to drop your prices to compete (depends a lot on services that you're offering and the time of year).
It can be time consuming going back and forth with customers.
Thumbtack From a Homeowners Perspective
This review wouldn't be complete if I didn't talk about the experience the homeowner has while using Thumbtack. And like any good detective I spent some time to investigate that.
Here's what they do really well for homeowners:
Their website is top notch – This is a huge trust builder for homeowners, and while you're browsing their site you get the feeling that you are being well taken care of.
There are lots of pros to choose from (at least in my city) – Within seconds of entering a job I had 3 different options of handymen to choose from and more came over the following days.
Pricing is transparent – I knew how much the handymen charged right away.
It's easy to communicate with pros – You can message pros directly through the website to get your questions answered. From a customer stand point, this is a great way to get a feel for how well the pro communicates and their style before having to get on a phone call.
Reviews are mostly from verified customers – Just like any online directory, they have reviews, most of which have to be from verified customers – although they do allow pros to ask non-Thumbtack customers for up to 10 reviews.
Thumbtack makes it really easy to find independent contractors. The hole process for the customer is streamlined, professional, and easy to use. In fact, I can see myself using it in the future for random services I may need.
And, as time passes, I'm sure the platform will continue to improve, more service providers will sign up, and Thumbtack will get even better for homeowners. That's nice, but the cost of that convenience is that they will have more control over the industry.
Quick Tips for Maximizing ROI
If you decide to try Thumbtack, here are some tips to help you close more leads and make more money.
#1 – Add a Good Picture Of Yourself
Most handymen just put their logo or a picture of a recent job for their profile pic. Don't do that! Customers want to see who they are hiring. By simply having a professional headshot of yourself on your profile, you'll get 10x as many jobs that you quote – which also means you'll pay less to get customers.
#2 – Communicate Quickly
Think about it. Customers are using Thumbtack to save time searching for a pro. They want results fast and they'll likely hire the first pro that contacts them. Sure, on jobs like kitchen remodels customers will want to talk to three different pros and weigh their options. But on smaller jobs they just want to hire and move on.
#3 – Prune Your Service Offering
Once you've bid on 25-50 jobs, go back and look at your history to see which jobs you were hired for and which jobs you weren't. You'll probably notice a pattern. Certain types of leads will never turn into customers, so change your settings and stop wasting your time bidding on those jobs. Conversely, you'll find that certain jobs have a very high closing rate. Double down on those.
#4 – Get Some Reviews
This one is obvious. According to Thumbtack, 85% of pros hired on thumbtack have at least one review. You don't need 100 reviews, just a couple to give potential customers some peace of mind.
Let's Sum it Up
Thumbtack can be a great tool to help you fill your schedule when time is of the essence. Just don't rely on it as your sole source of leads.
There's a Better Way To Fill Your Schedule
Don't pay another dime for leads. Learn how to attract high paying customers to your home service business consistently and reliably in this free report.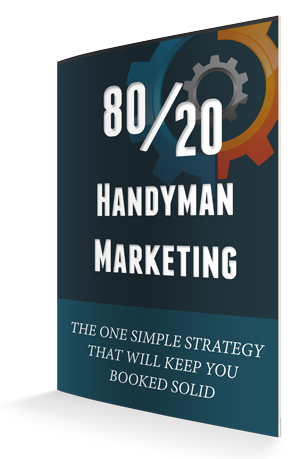 "80/20 Handyman Marketing"
You'll learn the one simple marketing strategy that will keep your schedule booked solid all year long without paying a dime for leads or ads.
Download Free Report >>
[ad_2]

Source link